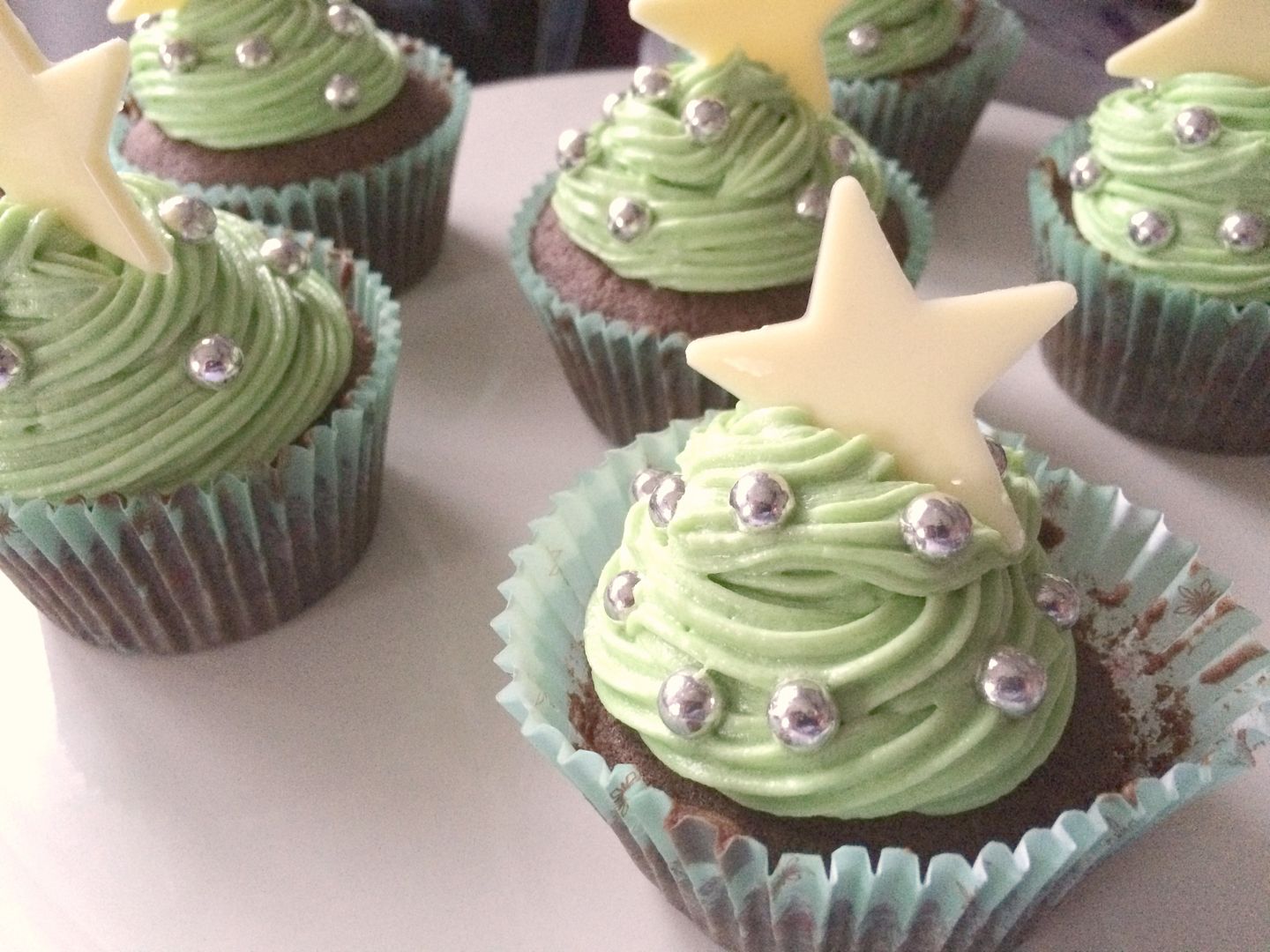 One of my favourite things about Christmas has to be Christmas Trees. We have a 1 year old puppy this year who still
LOVES
to chew things so we're having to wait until the 23rd to put ours up. Boo :(
So, to try and make myself feel better about the lack of a Christmas Tree in my life, I decided to bake some Christmas Tree cupcakes! I saw a few of these online and thought I would try it out for myself.
The ones I saw were all vanilla cupcakes, however I made chocolate cupcakes instead as the cake is supposed to represent the tree stump!
These festive cakes are sure to go down a treat with any guests you have over the Christmas period. I love making these delicious cupcakes, they are easy, simple and fun!
You will need
For the Cupcakes
175g of Caster Sugar
175g softened butter
2 Medium sized eggs
175g Self-Raising Flour
1 teaspoon of baking powder
Optional 3 tablespoons of cocoa powder (I always use three to make them really chocolatey but it's up to you as to how much you want to add!)
For the Icing
225g Icing Sugar
100g Softened Butter
1 teaspoon Peppermint extract
A few drops of green food colouring (again, it's up to you how much or little you use!)
Piping bag and nozzles
Optional Edible silver balls
Optional Chocolate Stars
Cupcake Recipe
Add your butter into a mixing bowl and beat until it is smooth and creamy. Then add the caster sugar and beat well.
Add the eggs one at a time, and mix into the butter and the sugar.
Sift the flour and then add slowly to the mix. Once the flour is all mixed in, add the baking powder and beat.
This is the part where it becomes up to you! I personally like to make these as chocolate cupcakes because I feel that it represents the tree part of the christmas tree. However, you can leave them as vanilla cupcakes if you wish, just add 1 teaspoon of vanilla essence.
If you are a chocolate addict like me, then omit the vanilla essence and add 3 tablespoons of cocoa powder.
Bake for 15-20 minutes or until you can poke a skewer into the middle and it comes out clean.
Leave to cool before attempting to ice the cakes.
To make the Icing
Now for the fun part! Beat the butter until it is smooth and creamy, and then slowly add the icing sugar until you have a thick mixture. Remember that in order to swirl the icing, you will need a fairly thick mixture!
Add the peppermint essence and mix well.
Once your mixture is ready, add a few drops of green food colouring and beat into the mixture. Again, this is a personal preference, some of you may like your trees to look really green, others may want them to have a light green look- just add 1-2 drops and add more if you feel you need to. Don't add too much though!
Using a piping bag, swirl the icing on the cakes. Then add a few edible silver balls one by one onto the icing to replicate baubles.
And to finish, add a chocolate star on the top!
What do you think?! Let me know if you make these yourself, I'd love to see them!