Love it or loathe it, it's coming guys. You can't fight it any longer- Valentine's Day is around the corner.
I used to be a bit of a Scrooge when it came to Valentine's Day, thinking it was just card shops trying to find a way to get us to spend more money but the past couple of years I've warmed to it. Which may have something to do with getting a boyfriend... Haha.
In all seriousness, I'm honestly not fussed at all about Valentine's Day anymore. I don't hate it but I'm also not going to go crazy over it. In fact, Dan and I aren't even going to do anything for it this year, we're just choosing to stay in and I'll cook us a nice dinner and we can enjoy each other's company.
Because really, isn't that what it's all about?! It's not about buying the most fancy presents or about going to the fanciest restaurants, it's about showing the person you love how much you love them- every day, not just Valentine's Day!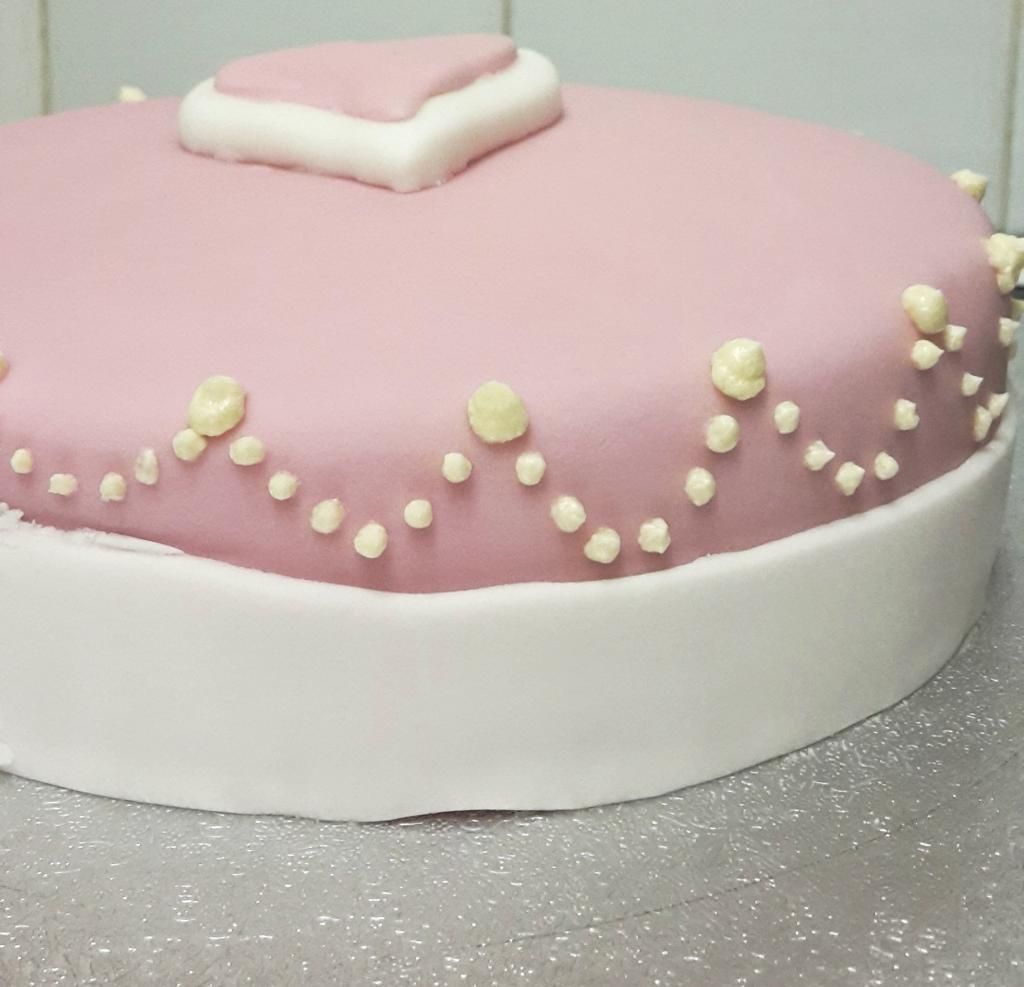 So anyway, this week I created a cake that was definitely Valentine's Day themed. I also decided to make it a bit Princessy and feminine as well. I like the way it turned out!
I made a simple sponge cake (sometimes when I know I'm going to put a lot of effort into the decorating, I prefer to keep the cake simple. As I'm only making them for fun and it's only me and my friends and family eating the cake, I know it doesn't need to be over the top extravagant) and then crumbcoated with buttercream icing and decorated with fondant.
I had a slight mishap in that I had a very tiny hole in my pink fondant towards the bottom, so I thought I would use the skill I learnt in
this post
and add a ribbon around the bottom to hide it... But then I made the ribbon too short as you can see in the picture below! But all in all, I'm pretty pleased with it. I then piped buttercream icing (because I'd made waaaaay too much) around to give it an elegant feel and added two white and pink fondant hearts on top. It didn't go completely to plan but I still really loved making this cake and I had excellent feedback from my colleagues at work who got to be my taste testers!
What are you doing for Valentine's Day? Let me know in the comments below! :)