You might remember that back in January I made
this little Panda
from fondant. He was REALLY popular and still gets viewed now, so I thought I'd write a post showing you guys how to make him yourself!
You will need:
White fondant

Black fondant

1 cocktail stick

Fondant shaping tools (although you could probably do without these if you don't have them!)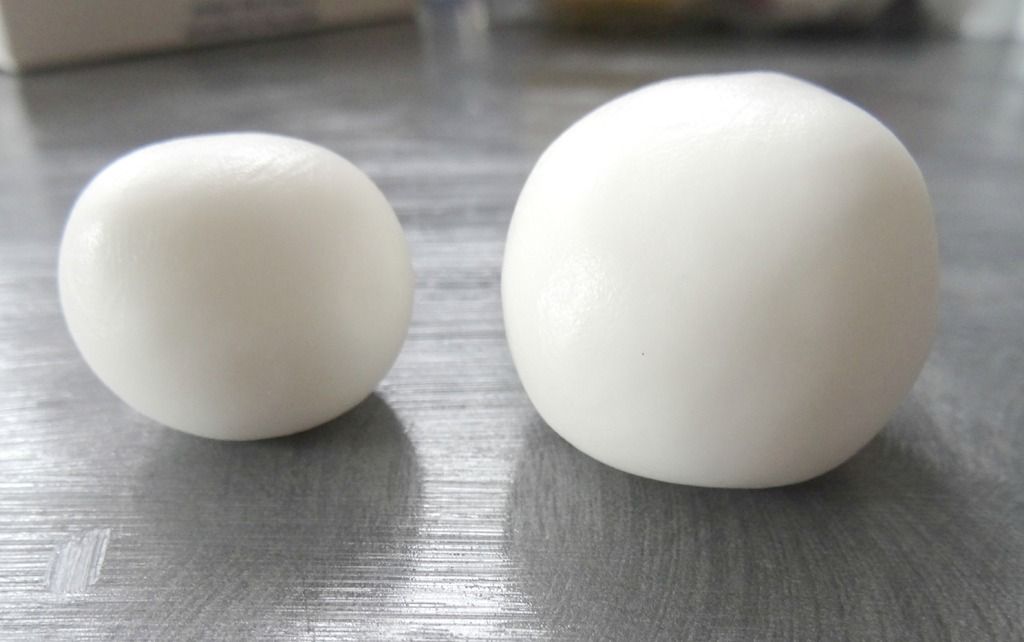 First, take some white fondant and mould it into two balls, one larger than the other, for the head and the body. The Panda can be as big or as small as you like, so don't worry too much about size! Then, using your fingers, mould it into more of a "cube".





Then, take some black fondant and mould it into the shape of the legs. I like to press one end of the fondant against my hand to create that smooth edge of his paw!


Still using the black fondant, roll between your hands to create a long "sausage", and again press the ends against your hand to create the paws. This will be his shoulders and his arms! Note: You will need to measure his arms against the body and the legs so they don't look out of proportion, this is all just trial and error! :)


Apply his legs and arms to his body. You can use things like buttercream to stick them together, however I find that I can just mould the parts to his body and it works out fine for me!





Then take two small pieces of black fondant and roll into balls. These will be his ears. Using your fondant tool shown above, create the fold in his ear, and mould into a circular shape using the tips of your fingers.


Once you have done this, apply to your smaller ball of white fondant (his head) and keep moulding to keep that circular look.




Using your ball tool as shown above, create two dents in his head for where his eyes will be.


Take two very small pieces of black fondant and roll them into balls. Flatten them with your finger or your ball tool to create the black effect around his eyes. Then place this on his head and mould into place.





Now take two even smaller (!) pieces of white fondant and roll them into balls for his eyes. Place these on top of the black fondant you just applied.


Place two extremely small pieces of rolled up black fondant on top of the fondant just applied for his pupils! Give him a mouth to complete his face (Although hopefully yours will look better than my dodgy one!)





Take the cocktail stick and place in his body. You will need to make sure it is sturdy inside but does not go out of his bottom. (teehee)


Measure the head against the cocktail stick and cut off any extra. You only want the cocktail stick to go halfway through his head, otherwise it will stick out of the top!


Once the cocktail stick is the right length and inserted in the body, place the head on top.


And that's it! For an added detail you can poke the extra cocktail stick into his tummy to create a belly button, or you can leave it how it is. Another quick tip- black fondant will get all over your hands and it's a good idea to wash your hands before touching the white fondant, or you'll end up with black finger marks :(
Also, if you are finding your fondant dries out or sticks to your kitchen surfaces, try using a product like Trex. It stops the fondant from sticking to the surfaces and boosts dry fondant up too!
Let me know if you try this, and tweet me your creations! If you like this, I have more planned so hopefully I can get you making lots of cute animals soon!
Have fun!