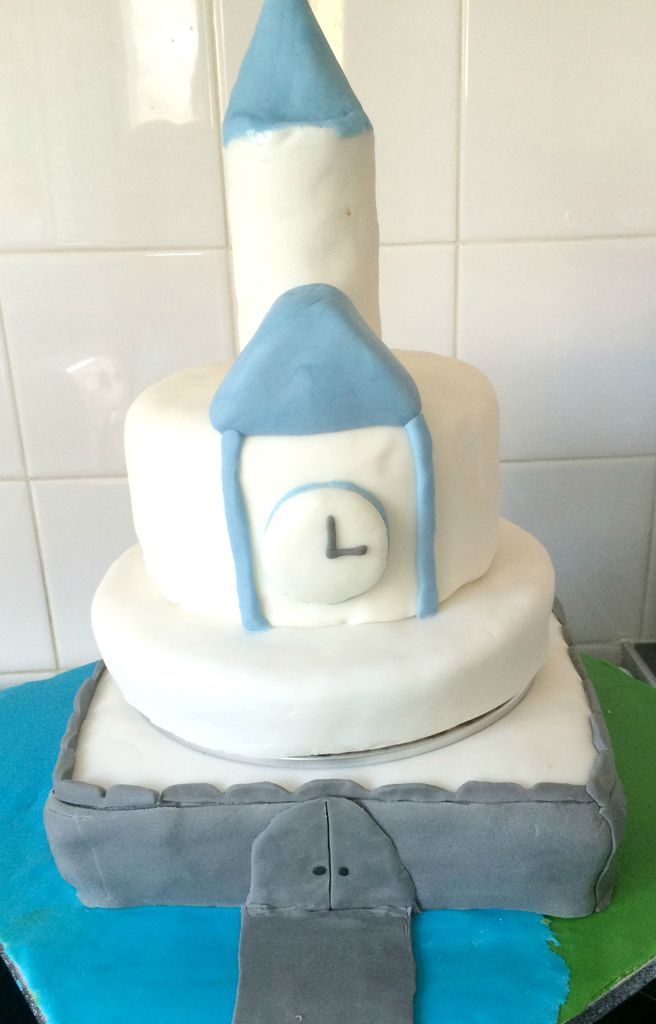 Recently, I decided I wanted to try and create "harder" cakes. I tried this before, with my
camera cake
, and while it didn't go as planned it did make me want to try some other more creative cakes.
If you've been reading my blog for a while, you'll know that I'm a bit of a Disney fanatic and that I LOVE Disney Princesses. I've seen so many castle cakes before and I finally plucked up the courage to create one myself. I spent ALL weekend on it, I had a little break to go out for a nice lunch with Dan, but apart from that all my efforts were just trained on this cake. It was really hard, I will admit, I wasn't 100% sure what I was doing so I made quite a few mistakes and had to go back and do little bits and pieces again, there were some tantrums (but no tears this time!) and I occasionally felt like giving up. I didn't though and I'm pretty sure this is one of my favourite cakes I've ever made. Is it as good as the ones I've seen? No, but one day I'll be able to create a cakey masterpiece!
I tried to work out how long I'd spent on this cake and I think I worked out about 8 hours? I made a Victoria Sponge cake with buttercream and jam for the bottom layer and then a sponge cake for the 2nd tier. The top tiers are dummy cakes (because my family cannot eat 4 cakes guys, it's just not possible!) and then I covered it all with ​
Renshaw Fondant
* and used it to make the clock and the turret. Luckily Renshaw's fondant is really high quality, so you don't get any cracks or "elephant skin" with it like you can do with some other brands of fondant. I don't think I could have coped with that as well as trying to keep my cool over carving cakes etc.! I love how cute the colours are as well, the baby blue is definitely my favourite colour so far!
I had some bigger dreams for this cake if I'm honest, I wanted more turrets and vines winding down the walls, brick effect all over the grey walls etc., but after 8 hours I kind of decided to stop there. Plus I couldn't find what I needed to make the brick effect... But I'm happy with this to be honest. I wasn't at first, but the more I look at it the more I realise that considering I started off less than a year ago not knowing how to even cover a cake with fondant, to then be able to make something like this just seems amazing to me.
So let me know what you think! If you have any other ideas for what you would like to see me make, leave your suggestions too! I can't wait to show you what other creations I come up with!

*Renshaw Fondant were kind enough to send me some of their fondant, however all opinions are 100% my own as always!