One of the most popular restaurants in Walt Disney World is Cinderella's Royal Table. Located inside the famous Cinderella Castle, Cinderella's Royal Table is a fine dining restaurant in which you can meet 5 of the most popular Disney Princesses. Because of it's location and it's popularity, reservations are EXTREMELY hard to get, so I do recommend that you book as far in advance as you possibly can (Disney allow you to book dining reservations 180 days
before
your visit. It sounds crazy, but do take advantage of this!).
Upon arriving, you will be taken inside the castle where you will meet your host, the lovely Cinderella. She will welcome you to her castle and there is a photo opportunity, before taking a seat and waiting for your party to be called. My one and only complaint about this restaurant is that our reservations were for 20:05. We tried to check in 15 minutes prior as we did for all restaurants so that they knew we were there and were told to come back dead on 20:05. We did so and went straight inside to meet Cinderella with no queue. We then weren't called for dinner until 20:35, which seemed a bit silly as we were under the impression we'd be able to dine from 20:05. But it wasn't the biggest deal, it probably only bothered us because we were starving hungry!
Once we were called, we were taken up this gorgeous winding staircase to the restaurant and were seated. Our server was absolutely fantastic, they will call you "My lord" and "My lady" but it's done very much tongue in cheek and it's all good fun. I was given a magic wand and Dan was given a plastic sword which was a really nice touch. They saw that we were wearing "Just Engaged" badges and made a fuss of us which was also really nice!
After about 5-10 minutes, a fanfare sounded which told us that Cinderella's guests, Princesses from other Kingdoms, were just about to arrive. A narrator told you the story of each Princess who then appeared separately and started making her way around the restaurant to greet everyone. The princesses are Snow White, Aurora, Ariel and Jasmine. They appear in that order. I was disappointed that Belle wasn't there but apparently it's because she now has Enchanted Tales with Belle, which is a new show where children get to meet Belle. That's another story which involves me getting annoyed that I couldn't meet Belle because I wasn't a child. Moving on... So each Princess came round to visit and spent a few minutes chatting with you. It was nice that unlike when you meet them in the Parks, it wasn't rushed and you could actually chat with them.
I asked Snow White if she'd visited the Dwarves train mine and she said that she does very often and she loves it. I told her that we were going that night to which she replied that I must make sure Grumpy is in a good mood. I love Snow and she's so often overlooked, so I gave her a hug and she asked me to take a picture with her, holding my dress as she does!
Aurora was less chatty, but then what does she really have to talk about? She congratulated us on our engagement and asked where he had proposed. When we said the Beast's castle she nodded and said that she knew Belle. It was pretty brief, but again, she doesn't have many conversation pieces poor thing. She was lovely though and is another overlooked Princess nowadays. Damn Anna and Elsa.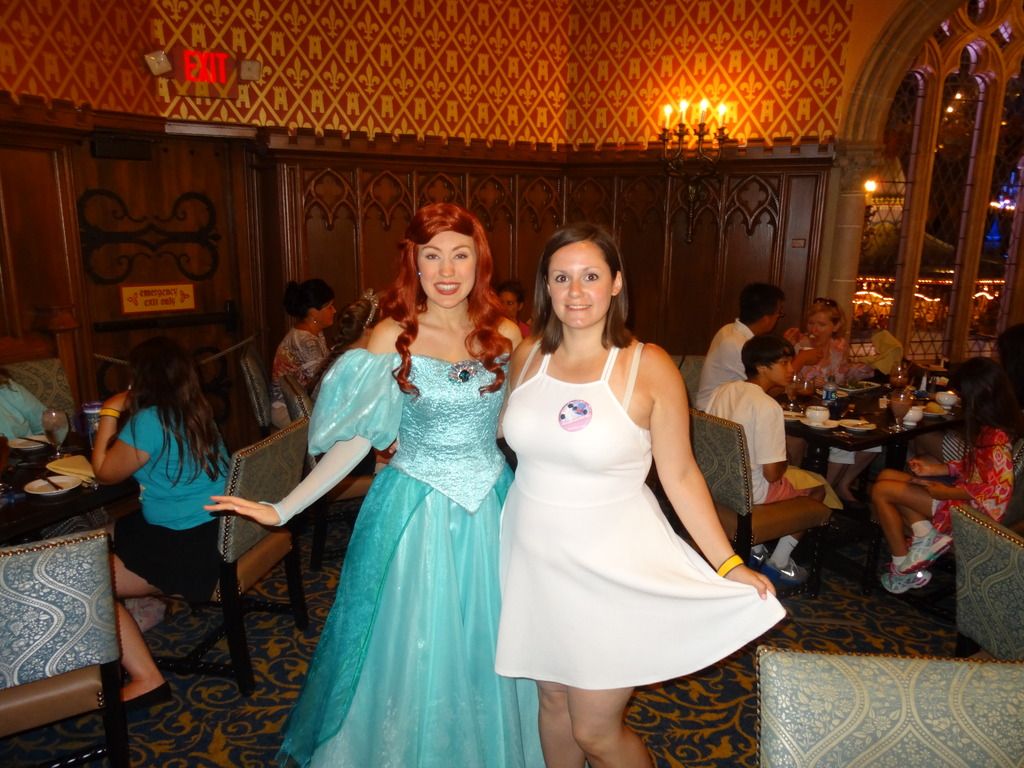 Ariel was fun, I asked her how Flounder was doing and she said that she wanted to bring him with her but for some reason Cinderella didn't like the idea of her filling up the restaurant with water, which she couldn't understand. I love that Ariel says "splash you later!" instead of see you later.
Jasmine was really nice, she was telling us about Abu and how if we kept an eye out of the window we might see Aladdin and Abu jumping from roof to roof (We didn't, such a liar), which was a fun thing. I would have a picture of her but Dan only took one and it came out blurry. Sad times :(
Obviously this is a VERY pricey experience, but luckily we were able to use our Disney Dining plan. Quick note, if you use your dining plan it will take TWO of your table service meals, but you do get a starter, entrée, dessert and a refillable soda all included so it's not too bad. I had soup to start, Steak and shrimp (which looked tiny but was SO filling) for my entrée and a chocolate dessert.
We were also given a celebratory cupcake with a candle to celebrate our engagement which made our night. We blew out the candle and made a joint wish! Everything was delicious and the service was impeccable. In fact, apart from the little blip with our waiting time at the start, I actually couldn't fault them for anything.
Another quick note, during the experience they hold a "Wishing Ceremony" which involves all the little girls (and big girls like me) touching their magic wand to their wishing star, which will spark off a whole load of flashing lights which look like stars. It's super pretty and a lovely thing, but obviously involves a lot of flashing lights, so keep this in mind if you suffer with epilepsy or anything like that- there was an incident while we were dining (not to either of us) which has made me want to make sure EVERYONE is aware, as Disney don't mention it at all and it was very distressing for the family involved.
So that's the end of my LONG rambling about Cinderella's Royal Table. If you've ever visited, let me know what you thought!