My Walt Disney World posts have been so popular (thank you!) that I decided to write a few posts with my tips for planning a Walt Disney World holiday! Last week I was talking about
Dining Plans
, the week before was
Hotels
and this week I'm talking about those special experiences and add-ons that help to turn your trip from a holiday to a magical experience!
When Dan and I first visited Walt Disney World, we had no idea what to expect. We didn't know about all the little added extras, we knew a few things from his Aunt who works for a travel company but there were a lot of things we wished we'd known about before we went out there. So I thought I'd share some of those with you!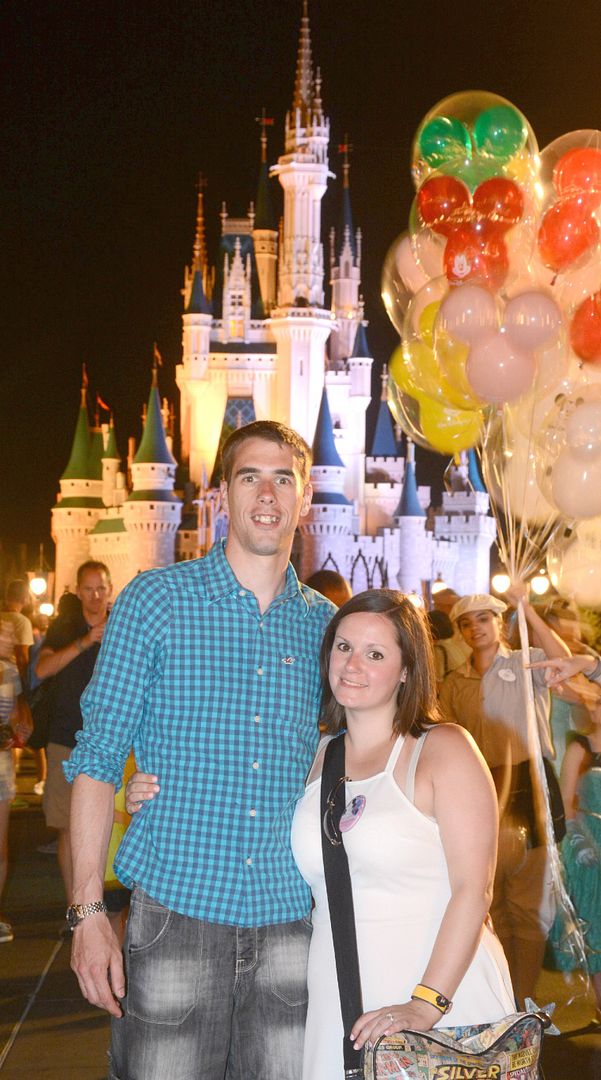 A photo taken with Memory Maker
Memory Maker
When you meet a character, there's also a Disney photographer there to take magical photos of you and your party, so you don't even need to worry about one of you not being in the shot! You can also get your picture taken on certain rides like Splash Mountain and many more- so you can always remember how much you screamed as you fell down a 50ft waterfall!
Memory Maker allows you to take home every single photo as a digital download so that you can keep the memories forever. At $199 it's pretty pricey, but we really regretted not getting it the first time as to get the majority of the photos we had taken cost us $150 anyway. The second time we went we took advantage of it- and then got our money's worth. My tip? If you buy it, get as many photos as you can. We had over 400 photos, which to buy separately would have cost us way more than $199, so we basically made our money back and more! There are Disney photographers all over the parks, so you can easily make your money back. One of the people we spoke to said they knew of people who had taken 1,000 photos on Memory Maker and therefore had made it SO worth it for them!
Character Meet & Greets
I talk about these a lot because I always find them to be such a magical experience. My favourite experience has to be from our first WDW trip where I told Anna and Elsa that my relatively newborn niece at the time was called Elsa and they insisted on recording a message for her to listen to when she grows up- it was such an amazing thing for them to do! If you want tips on how to meet characters, you can read
my post here
, or
Danielle's post
too!
FastPass
Disney allows you to take advantage of three fastpasses per day, so you can basically queue jump three rides per day. This is so worth it, especially for rides like Space Mountain or Peter Pan's Flight where you can easily queue for at least 2 hours as it will save you so much time. Fastpass gives you a time that you can come back and ride, you may still have to queue but your queuing time will be significantly less.
A couple of downsides of Fastpass, you can only book fastpasses for the same park, so if you're planning on park-hopping each day then it may not work as well for you but is still worth trying anyway! Another downside is that like dinner reservations, they get booked up quickly, however you can book them 60 days before your holiday so set that calendar reminder and get booking!
La Cirque Du Soleil
Oh my god. To give you a bit of background, I am terrified of clowns. I put off seeing this show because Circus to me means clowns and I was way too scared. But I decided at the beginning of this year that as Dan really wanted to see it, I'd put my fears aside for him and book the tickets as his birthday present. Guys, I am so glad I did, honestly. I'm going to
link the trailer here
and that music gives me goosebumps when I hear it or think about it, the show was incredible. If you do go to Disney Springs during your stay I wholeheartedly recommend you see it, seriously.
P.S there were clowns and they did get a bit too close to me for my liking, but only for like a second and then they were gone- if you are scared of them, it's not too bad but try to get further back in the audience as the first set of rows get them coming into the audience!
Water Parks
This is something Dan and I didn't do, but there are two water parks- one is Pirate themed (Typhoon Lagoon) and the other is snow themed (Blizzard Beach) and both look amazing from what I've seen. I'm afraid I can't go into much more detail but if you're reading this and you have been please let us all know what they're like!
Spas & Fitness Centres
Again, this is something I haven't done but I want you to know about them- in quite a few of the Deluxe hotels there are some gorgeous spas and fitness centres. They are very expensive however so be prepared to pay a lot for a massage, but if you want a day of relaxation after running around the parks I can imagine they are incredible to visit!
There is SO much more that I could write about as Walt Disney World has so much to offer, but I will leave it there otherwise I will quite literally be here all day!
I really, really hope you've found this series helpful and if you want you can also
read the rest of my Walt Disney World posts,
including posts about the different Parks, restaurants and more!